Details

March 30, 2023
Global Meetings Industry Day - Ohio
Cleveland | Columbus | Cincinnati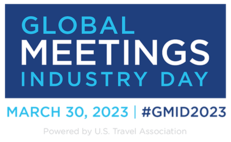 Join the Ohio Society of Association Professionals, the Ohio Hotel & Lodging Association, PCMA Power Chapter, ILEA Ohio Chapters, and MPI Ohio Chapter March 30, 2023 for Global Meetings Industry Day to recognize the undeniable value that business meetings, trade shows, incentive travel, exhibitions, conferences and conventions bring to people, businesses and communities.
Attend one of three events across Ohio and connect with fellow industry professionals to celebrate together that meetings do matter.
Registration is closed.
Cost:
$10 Per person
*Note: Advance online registration and prepayment by credit card is required. Walk-ins the day of the event will not be accepted. Due to the nature of this event and the minimal cost to attendees, we are unable to provide refunds for cancellations.
Schedule:
4:15 p.m. Property tour
5:00 p.m. Property tour
4:30-5:30 p.m. Happy hour meetup
Locations:
Cleveland
Hyatt Regency Cleveland at the Arcade
Meeting Level Foyer
420 Superior Avenue East
Cleveland, OH 44114
Columbus
Hyatt Regency Columbus
Private Dining Room
350 North High Street
Columbus, OH 43215
Cincinnati
The Summit Hotel
Brew and Barrel
5345 Medpace Way
Cincinnati, OH 45227
Thank you to our generous host venues:
Thank you to our sponsoring organizations:
Add to Calendar
aCLuDhaqizCaPxAftmqF167204
03/30/2023
03/30/2023
true
Global Meetings Industry Day - Ohio
Join the Ohio Society of Association Professionals, the Ohio Hotel & Lodging Association, PCMA Power Chapter, ILEA Ohio Chapters, and MPI Ohio Chapter March 30, 2023 for Global Meetings Industry Day to recognize the undeniable value that business meetings, trade shows, incentive travel, exhibitions, conferences and conventions bring to people, businesses and communities. Attend one of three events across Ohio and connect with fellow industry professionals to celebrate together that meetings do matter. Registration is closed. Cost: $10 Per person*Note: Advance online registration and prepayment by credit card is required. Walk-ins the day of the event will not be accepted.  Due to the nature of this event and the minimal cost to attendees, we are unable to provide refunds for cancellations. Schedule: 4:15 p.m. Property tour5:00 p.m. Property tour4:30-5:30 p.m. Happy hour meetup Locations: ClevelandHyatt Regency Cleveland at the ArcadeMeeting Level Foyer420 Superior Avenue EastCleveland, OH 44114 ColumbusHyatt Regency ColumbusPrivate Dining Room350 North High StreetColumbus, OH 43215 CincinnatiThe Summit HotelBrew and Barrel5345 Medpace WayCincinnati, OH 45227 Thank you to our generous host venues:   Thank you to our sponsoring organizations:  
Cleveland | Columbus | Cincinnati