Complete Story

06/06/2018
Invest in Your Growth: Participate in This Exciting Leadership Development Opportunity
Program participants will grow both personally and professionally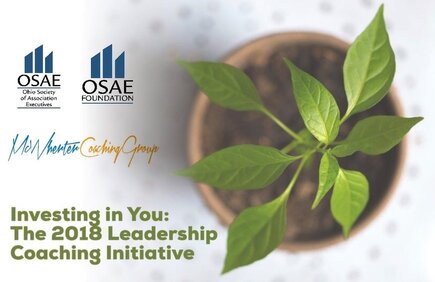 In an effort to reinforce the value the of professional and personal development, the Ohio Society of Association Executives, the OSAE Foundation and McWherter Coaching Group recently launched "Investing In You: The 2018 Leadership Coaching Initiative." This initiative, which is open to all segments of OSAE membership, is an exciting way for your association to help you invest in yourself and your long-term success. This year, the initiative will allow five engaged and committed individuals to participate in a six-month coaching program, with our organization assuming 50 percent of the costs of the investment program!
Why should you consider applying? Leadership coaching is for people who are aware of an opportunity, challenge or issue that is presenting itself for them to resolve. Coaching is an action-oriented investment in your own growth. As OSAE Member Wendy McWherter, who is spearheading the initiative noted, clients set the goals and do the work. The application questions will help us discern if the clients are ready for coaching.
"Good coaching clients have an emerging vision for a specific goal or results they want to work on during the six months of the coaching engagement," McWherter said. "But, clients - OSAE's members - have to be ready for coaching and the work it will entail."
The deadline for applying is June 12, 2018.
OSAE expects to receive many applications for this program. While the chosen candidates will have to pay $500 to invest in their coaching experience, OSAE and the OSAE Foundation are offsetting the cost by 50 percent. The actual cost of the engagement is $1,000, but we want our members to gain the valuable insights this offer will provide, which is why the Foundation, in its effort to "pay it forward," is supporing this initiative.
Once all of the applications have been received, the organization's leadership will review them alongside McWherter and determine which candidates seem most qualified for this year's innaugural program. Once these candidates are selected, McWherter will personally contact them to confirm their interest in participating and get them onboarded. At that time, OSAE will also inform any other interested applicants that they were not among those chosen to participate at this time. However, we are very interested in working with anyone who is interested in order to move them into a future coaching opportunity. The leadership sessions will be provided via telephone calls with McWherter in order to make it easy for any OSAE member - no matter their physical location - to participate in the initiative.
Should OSAE find, as we suspect we will, that the program is highly sought-after and provides a strong value to you, we will examine opportunities to expand it for 2019 and beyond. However, due to budgetary restrictions, we can only support five candidates this year.
Successful candidates in the program will be recognized for their achievement at the Nov. 2 Q4 Luncheon Meeting/Association Leadership Forum.
We hope you'll take advantage of this great opportunity. To complete the application for this program, please select this link! We cannot wait to see how excited you are to participate in "Investing In You: The 2018 Leadership Coaching Initiative."
---