Complete Story

01/18/2019
OLC Executive Director Announces Retirement
Douglas Evans will retire effective June 28, 2019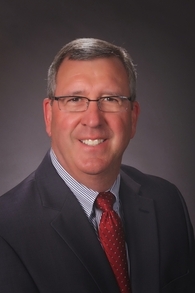 Douglas S. Evans, CAE, has announced his retirement as Executive Director of the Ohio Library Council (OLC), the statewide professional association that represents the interests of Ohio's 251 public libraries, their trustees, Friends groups and staffs. Evans has served in the role as the OLC's chief executive officer since June 2002 and will retire effective June 28, 2019.
"We are incredibly grateful to Doug for his leadership over these many years," said Kacie Armstrong, chair of the OLC board. "He has guided the OLC through change and challenges and has worked tirelessly with the OLC staff and library directors throughout the state in the best interests of Ohio's public libraries. His mark on Ohio's public library community will be felt for years to come."
The OLC Board of Directors will immediately begin the search process for new executive leadership. A subcommittee of the Board of Directors chaired by Nick Tepe, Director, Athens County Public Libraries and Immediate Past Chair of the OLC Board, will oversee the search process, with the goal of identifying a new Executive Director prior to Evans' departure. During the six months leading up to his retirement, Evans will work with the OLC Board as they search for and transition to new executive leadership.
As executive director, Evans has been responsible for formulating and implementing the OLC's strategic direction, day-to-day management of the organization, and the coordination of internal and external resources required to meet members' needs. He provides the executive leadership for a 13-member OLC board of directors, develops and manages the organization's $1.3 million annual budget, and leads the OLC's team of nine management and support staff members.
Prior to being named OLC's executive director, Evans served in several management and senior staff leadership positions with the Ohio State Medical Association (1984-2002). He also served as director of public relations and development for the Central Ohio Chapter of the Arthritis Foundation (1982-1984).
Evans is a 1981 graduate of the Ohio State University with a Bachelor of Arts Degree in Journalism. Evans is a member of the Ohio Society of Association Executives (OSAE), and has served on the OSAE board of directors (2002-10) and as OSAE president (2009-10). As a member of the American Society of Association Executives (ASAE), Evans holds the designation as a Certified Association Executive (CAE).
---