Complete Story

05/22/2020
FedEx is Giving $1 Million to Small Businesses
The shipping giant is trying to help organizations weather COVID-19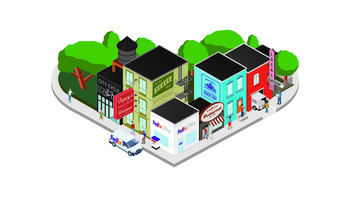 Small businesses strengthen the economy and make the world more vibrant, creating jobs, as well as unique products, services and spaces. Communities depend on small businesses, especially in these trying times. These businesses are often nonprofits - like OSAE's members!
Many small businesses are hurting right now. Whether you're making the move to selling and shipping online or you're ramping up your safety and cleanliness measures to keep customers and employees safe, you're putting your all into not just surviving but becoming more creative and resilient than ever.
To honor that spirit, FedEx is committing to provide $1 million in grants for small businesses in the U.S. Each grant recipient will receive $5,000 plus a $500 credit from FedEx Office, which can be used for printing banners, posters, floor graphics, custom branded boxes and more.
OSAE members can apply starting May 25 at fedex.com/supportsmallgrants. But first, please make sure you're signed up for FedEx discounts through the OSAE Shipping Program. If you're not already taking advantage of this free benefit, enroll today!
OSAE would like to thank FedEx and its PartnerShip program for taking action and helping America's small businesses - which includes countless nonprofits and members.
---