Complete Story

11/09/2020
OSAE Invites You to Participate in an Association Environmental Scan
Association Professionals: Please participate by Dec. 8, 2020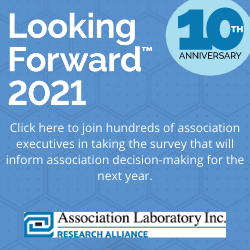 Ohio association professionals: You're invited to participate in the Looking Forward 2021 survey, the nation's longest-running, most comprehensive environmental scanning research of the association business environment and the first association sector scan that takes into account the COVID-19 pandemic.
Complete the survey to receive complimentary access to a dashboard of its results, giving you timely and valuable data on the state of the association business sector. The research is being conducted by Association Laboratory, an independent strategic research firm specializing in association business strategy, in concert with more than 20 association organizations, including OSAE.
Learn more about the survey research by selecting this link.
The deadline to participate in the survey is Dec. 8, 2020.
---