Complete Story

07/15/2022
Valuable Information for OSAP Conference Attendees
Find out more about what awaits you as Explore Licking County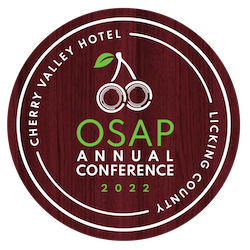 The staff of OSAP and our volunteer leaders are looking forward to seeing you next week at the OSAP 2022 Annual Conference, July 20-22 at the Cherry Valley Hotel in Newark! The host venue, Cherry Valley Hotel & The Ohio Event Center, is located at 2299 Cherry Valley Road SE, Newark, Ohio, 43055. There is no charge for parking. Additionally, all the educational sessions will be held onsite within the venue's ballroom and breakout space.
Prior to the event, please take a moment to review the Conference Schedule and Conference FAQ for important conference information including the complete schedule, transportation to offsite activities, suggested attire and more.
Conference Registration Desk Hours (located in the Denison Room just down the hall and around the corner from the hotel's front desk):
Wednesday, July 20: 8:30 a.m. – 6:00 p.m.
Thursday, July 21: 7:00 a.m. – 4:30 p.m.
Friday, July 21: 7:00 a.m. – 12 p.m.
The CVB Showcase Tour: If you have pre-registered for the Explore Licking County CVB Showcase, please select this link to learn more about the tour of Grandville that Explore Licking County created for you. We ask tour attendees to return to the hotel by 1:00 p.m. in order to have approximately 1 hour to relax and refresh before the opening keynote.
Brown Bag Raffle: Please plan to participate in the OSAP Foundation Brown Bag Raffle at the conference for the chance to win cool items from our generous donors. Tickets will be available at $5.00 each or five for $20.00. Cash, checks and credit cards will be accepted. Proceeds from the raffle benefit the OSAP Foundation. Winners are drawn on Friday following the closing keynote presentation. NOTE: If you've yet to donate an item, you can fill out the form here and just bring the item with you to registration.
Conference Handouts: Please access our OSAP Mobile App to view the conference handouts we received from conference speakers by the time this email was distributed. We will continue to update session handouts as they become available. A link to the program can also be found on the app – in case you forget your printed program or would simply like to refer to the digital version.
Interactive Exhibit Floor Plan: Our online map on the Results@Hand app will help you organize your time before the event by allowing attendees and exhibitors alike to preview the conference space.
Session Speakers' Books & Merchandise: Some of our speakers have written books that may be of interest to you. There will be a table in the ballroom for you to purchase books and merchandise directly from these presenters after their respective sessions.
Wednesday Evening: OSAP Board Chair's Welcome Reception: Please join us and OSAP Chair Michael O'Toole, CAE on Wednesday evening for a casual event open to all conference participants. This event will begin at 7:15 p.m. and conclude at 9:00 p.m within the venue's Ohio Event Center. There will be food, drinks and wonderful events planned for those who attend. As we started doing in 2021, we ask you to come in casual clothing – there's no reason to be stuffy among your OSAP friends and peers. We've spent enough time being stressed. This evening's event is fun, casual and relaxed.
Thursday Evening Activity: This year's Thursday evening dining activity, hosted by Explore Licking County, will be a truly unique experience. Transportation to Downtown Newark is being provided by OSAP Platinum Conference Sponsor Saling Simms Associates. We ask that everyone gather near the hotel lobby around 5:45 to begin boarding the transportation for our evening of fun and exploration. Wear your conference name badge to receive access to all of the evening's events. OSAP guests will be traveling to The Works where you can explore SciDome, walk through the art gallery and the glass-glowing museum. It's a two-story museum of interactive science fun. Food will be provided by Snapshots Lounge. Special thanks to the Ohio Trucking Association for their exclusive sponsorship of the evening's libations! Transportation will begin departing at 8:45 p.m. Once again, we ask our conference guests to wear casual attire and appropriate footwear.
Friday Sessions: New for 2022, we want attendees and exhibitors to be comfortable so casual attire for the half-day sessions is requested. You have worked hard and deserve a break. Leave the "work clothes" in your luggage, and come in casual clothing. Rumor is - I might not even wear a tie on Friday.
Thank you for registering for the OSAP 2022 Annual Conference. We look forward to seeing all of you. We can't wait to see you in Newark and to join you as we Explore Licking County! We are strong because we are a network of committed peers, colleagues and friends. Thank you again for making us Ohio's premier association community.
More Info
---