Complete Story

07/24/2023
Thank You for Creating a Remarkable Conference Experience!
Your engagement made it rewarding for everyone
What a wonderful few days we had in Remarkable Lake County.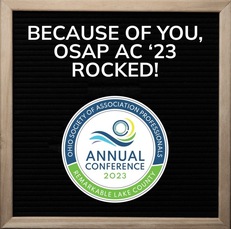 On behalf of the boards of both OSAP and OSAP Foundation, I want to personally thank you for attending the OSAP 2023 Annual Conference in Remarkable Lake County. You made the experience so rewarding for the organization, your colleagues and the volunteers who committed themselves to giving you a great experience.
To Neil, Trista and Katie at Remarkable Lake County, we thank you for providing opportunities for members that took their breath away - the beach excursion and the Thursday night event at Stonegait truly did that.
Thank you to Thomas and his team at the Four Points by Sheraton Cleveland-Eastlake.
I'd also like to thank our phenomenal sponsors who made the event possible. This list includes Platinum Sponsor Saling Simms Associates; Gold Sponsors Destination Toledo, Experience Columbus, Kalahari Resorts & Conventions,Visit Cincy and Sharonville Convention Center; Silver Sponsors Frantz Ward LLP, LIG Solutions, Shores & Islands Ohio, TCS Software, UHY Consulting and Visit Canton; Bronze Sponsor i3 Merchant Solutions and our Benefactors: Burgie Media Fusion, Clark Schaefer Hackett, Picture America Event Photographers and Results at Hand.
Thank you, as well, to our wonderful exhibitors who showcased their great products and services, whether that's a tech solution, a great destination or a beautiful property. Our exhibitors this year were: D2L, the Dayton Convention & Visitors Bureau, Destination Cleveland, Metropolitan at The 9 | Autograph Collection, the Pro Football Hall of Fame, Renaissance Columbus Downtown Hotel, Sedgwick, Travel Butler County, Visit Dublin Ohio and Visit Greater Lima. It was wonderful having you at the conference to highlight your brands and interact with your association professional peers.
Without the help of George Gugle and i3 Merchant Solutions, we wouldn't have been able to conduct the OSAP Foundation's Brown Bag Raffle - which helped us raise more than $3,500 to benefit the foundation's "pay it forward" support programs. Thank you, my friend.
We can't wait to see you next year at the Sharonville Convention Center for OSAP's 2024 annual conference. To our friends at Visit Cincy - Andy and Jeff - thank you for making such a great impact with our attendees at this year's conference. People are already talking about what awaits us!
The professional speakers and subject matter experts who presented this year helped make this conference one that will live in the memories of each of you, and we thank each of you for engaging with them and making them feel welcome at OSAP AC '23. They also presented wonderful education - based on your feedback - so we're glad that they spoke on their various topics.
As always, it was our pleasure to serve you, and it was my honor to oversee OSAP's seventh conference as your president & CEO. Thank you for making the organization - your organization - such a wonderful place to be. To the board members who attended - both past and present - I appreciate your commitment to OSAP and the foundation. We are lucky to have such committed stewards serving as our leading brand ambassadors.
Photos from the event will be posted to OSAP's Facebook page later this week. Please check them out; we hope you had as great a time attending the conference as we did hosting it for you. We hope to see you in September at the Joint Industry Event!
Warmest regards,
Jarrod
---