Complete Story

10/16/2023
The OSAP 2024 Annual Conference Will be Held at the Sharonville Convention Center
Plan on joining OSAP in the Queen City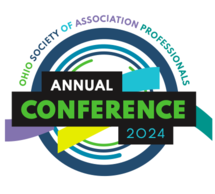 Each year, the Ohio Society of Association Professionals holds its annual conference in a different location around the Buckeye State.
During this year's annual conference in Remarkable Lake County, Andy Conklin, the executive vice president of sales & marketing for Visit Cincy, announced that the OSAP 2024 conference would be held at the Sharonville Convention Center with Visit Cincy as the host CVB.
"We can't wait to show off all of the great offerings and amenities that await you at the Sharonville Convention Center," said Conklin. "It's become a real showcase for the area and will be a fantastic place for OSAP attendees to call home for a few days next year. After you visit, you'll be excited to bring your groups, your families and your friends to Sharonville."
The OSAP 2024 Annual Conference will be held June 26-28, 2024. This is one month earlier than OSAP typically holds its annual conference because the ASAE annual meeting will be in Cleveland next August, and OSAP will likely be involved in that event, as well.
---