Complete Story

07/15/2020
A Recap of Governor DeWine's Address to the State
He spoke for roughly 22 minutes this evening
In a statewide address from his office in the Statehouse tonight, Governor Mike DeWine said that the state is at a critical point in the COVID-19 pandemic and implored Ohioans to take appropriate action to reverse the rapidly increasing spread of the virus.
DeWine commended Ohioans for doing their part at the beginning of the pandemic. However, with positive cases increasing, he reminded Ohioans that the choices they make today will impact the spread of the virus in the coming weeks. During the speech, grounded in scientific evidence and data, DeWine reminded Ohioans about the efficacy of facial coverings to protect themselves, loved ones, friends, neighbors and other citizens. He also renewed the call to socially distance and limit public gatherings.
The governor's office would like to sincerely thank the organizations that are helping to amplify the governor's message on social media. His office shared several tweets from a few of their association partners, including the one on the right.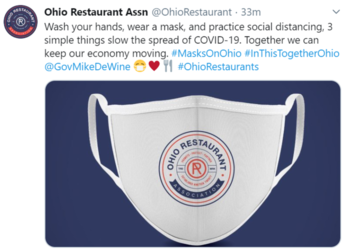 Please join them in helping spread the word and stop the virus by posting on your social media platforms using #MasksOnOhio and #InThisTogetherOhio.
A video of the address is available on the Ohio Channel's YouTube page. The next regularly scheduled press conference is tomorrow (7/16) at 2:00 p.m.
---