Complete Story

12/14/2021
Ric Mazon, CAE Receives R. Thomas King Award
He received the lifetime achievement award at the OSAP Foundation Holiday Luncheon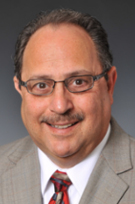 The OSAP Board of Directors and staff of the Ohio Society of Association Professionals are honored to announce that Riccardo "Ric" Mazon, CAE, Vice President of Programs and Strategic Providers, Assurex Global, was nominated and selected to receive the 2021 OSAP R. Thomas King Distinguished Service Award.
Assurex Global is an exclusive partnership of the most prominent independent agents and brokers in the world. With $30 billion in annual premium volume and more than 600 partner offices, Assurex Global is the world's largest privately held commercial insurance, risk management, and employee benefits brokerage group. Assurex Global's combination of local expertise and global reach helps you navigate the changing insurance landscape with confidence. Its vision is to be an indispensable resource for its partners by being bold, innovative and striving for excellence in all that they do. Mazon has been a member of OSAP for more than 25 years and has served the profession of association management in various roles and has served as past chair (president) of the organization. He was also fundamental in service to the organization on various committees, on the board and in various leadership roles.
As quoted in the nomination letter, "Ric has been involved in association work most of his career, and a dedicated member, volunteer and passionate ambassador for OSAP/OSAE during that time. He has been a true mentor and leader to me and so many others, both in associations as well as with our industry professionals. In addition to his knowledge and willingness to share that knowledge with others in any given moment, he has the biggest, kindest heart on the planet. He teaches, writes articles, helps lead round tables, focus groups and always does so with a great sense of pride, committed loyalty and a sense of humor."
"This is a great honor to be recognized by the organization and my peers," Mazon said upon receiving the award at the OSAP Foundation Holiday Luncheon & Silent Auction. "This award means a great to me, and I am fortunate to have been a member of this group and served alongside so many friends and peers."
The OSAE R. Thomas King Distinguished Service Award is the highest honor of the society. It is intended to recognize an individual who has provided superior service to the Ohio Society of Association Professionals and to the association management profession over many years. Further, the King Award is intended to recognize those who make superior individual contributions per se, rather than the contribution of an individual representing the accomplishments of many. This highest honor is not given lightly and only one person annually is selected and deserving of this distinguished award.
We hope that all members will join OSAP and the OSAP Foundation in honoring this year's recipient. On Dec. 31, 2021, Mazon will retire from Assurex Global, but we have been assured that he intends to continue to play a valuable role in Ohio's association community.
---